Bella Via Medical Spa
2865 N Reynolds Rd #240
Toledo, OH 43615
Phone: (419) 534-6552
Monday, Wednesday, Friday: 8:30 a.m.–6 p.m.
Tuesday, Thursday: 8:30 a.m.–7 p.m.
Every other Saturday: 9 a.m.–4 p.m.

Permanent Cosmetics
Permanent cosmetics, also known as permanent makeup, micropigmentation, cosmetic tattooing, microblading, or lip blushing is the process of placing pigments just beneath the epidermis of the skin. This procedure can be permanent or semi-permanent. Our permanent cosmetic professionals at our Toledo medical spa perform the procedure using advanced digital technology and natural pigments with an extensive safety record. Using topical or local anesthetics, permanent makeup is applied utilizing the highest sanitation and sterilization standards available. The effects of aging, surgeries, and sun exposure may alter the pigment's appearance over time. Refresher appointments may be appropriate to keep your makeup looking its best.
Good candidates for permanent cosmetic services include people who:
Have an active lifestyle
Participate actively in sports
Have allergies to cosmetics
Have difficulty applying makeup
Have oily skin that causes makeup to smudge
Have thinning or sparse brows
Wear eyeliner every day
Wear contact lenses
Are visually impaired
Have hay fever or watery eyes
Have alopecia (absence of hair)
Have unsteady or arthritic hands
Want to save time
Want permanent, waterproof, hassle-free color
Consultation
Complimentary
During this appointment, our certified permanent cosmetics professional will determine if you are a good candidate for the procedure.
Permanent Makeup
Eyebrows
$650*
Anyone who desires fuller or more defined eyebrows can benefit from this service. From a few strokes to fill small areas to total brow re-creation, permanent eyebrows can offer the freedom of never using a brow pencil again.
---
Semi-Permanent Makeup
Ombre Powder Brows
$400*
Ombre powder brows creates a soft shaded filled in look! This process uses a handheld machine to place very tiny dots of pigment into the skin. It creates a soft shaded penciled-in look that is ideal for candidates looking for a soft, natural filled brow.
* 6 to 8-week touch-up—Complimentary
* Annual touch-up—$200
Microblading Powder Brows
$400*
Microblading powder brows offers a fuller more defined look. Microblading with powder brows is a combination that uses a blade shaped tool to create hair like strokes, with the powder brow technique. This procedure creates a beautiful, natural, front with a shaded ombre tail.
* 4 to 8-week touch-up—Complimentary
* Annual touch-up—$200
Lip Blushing
$500*
Depositing pigment gives a hint of color to your lips and enhances their shape, creating semi-permanent results. A consultation with one of our estheticians is necessary to assess your lips, choose a color, and discuss what you want to achieve. We recommend yearly touch-up appointments.
* 4 to 8-week touch-up—Complimentary
* Annual touch-up—$200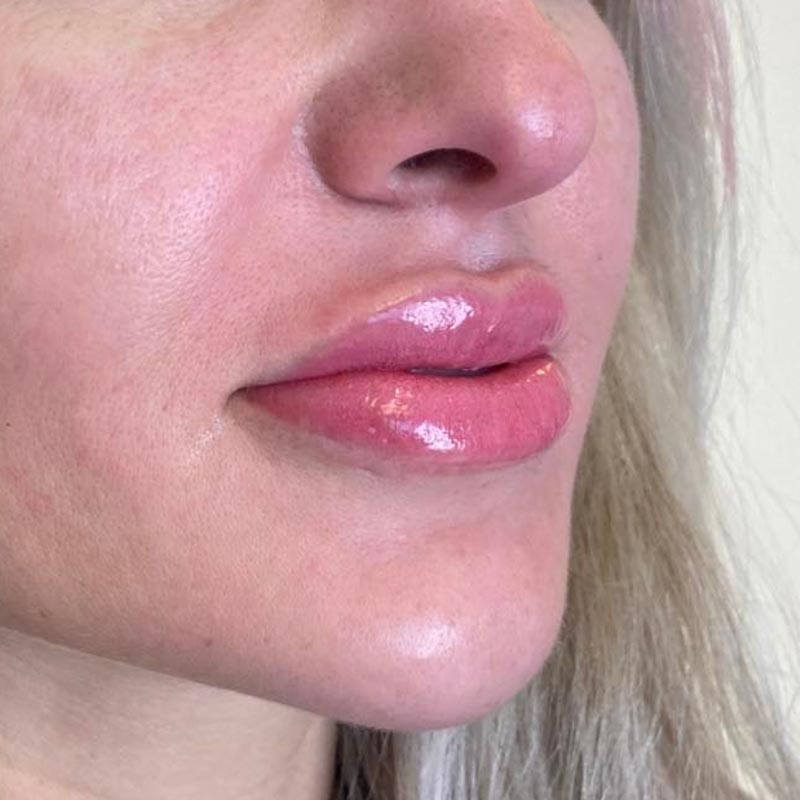 Post-Permanent Makeup Massage
$80
A licensed massage therapist performs this soothing treatment immediately after your permanent makeup procedure. It combines profoundly relaxing body therapy with manual lymphatic drainage, a light massage technique that reduces swelling and inflammation and promotes healing.
---
Bella Via adheres to a 48-hour cancellation policy for permanent makeup. A $100 deposit is required to secure all appointments (both initial procedures and touch-ups).
What's Next?
Our team of certified permanent cosmetics professionals are ready to help you look your best! Under the supervision of board-certified plastic surgeons, they create customized plans based on your unique needs. To learn more, request an appointment or call us at (419) 534-6552.